5CE hours – Regularly $60 Now only $45!

Discover how to use the ancient healing tool of the Thai reflexology wooden stick—to enhance yours and others' full body wellness! Get curious as we introduce you to the Thai meridians (energy channels) and Thai therapy points. And together, practice Thai inspired stretches, reflexology approaches, and methods of applying the deepest pressure gently with the wooden stick. Most techniques are focused on the foot reflexes, plus learn how to addressing therapy points on the face and hands.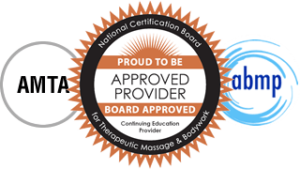 All of our massage CE courses are NCBTMB approved (Provider #330232) and can be used to fulfill NCBTMB, AMTA and ABMP as well as most state massage therapy continuing education requirements
If you are a massage therapist, or anyone who uses their hands a lot, you'll the love the ability to work smarter, not harder by discovering how to utilize the stick as an extension of your own hands and thumbs. These Thai Reflexology techniques can be done in a standalone therapy session, or can be an extra added bonus feature to complement other forms of healing and self-care. Best of all, you get to grow, discover, and refuel from the comfort of your own home while earning 5CEs.
Class Organization
Explore several hours of video footage from Heath and Nicole's upbeat and lively classes, presented in small digestible vignettes.
A downloadable instructional manual is also provided so you can follow along with the video lessons.
After you complete viewing the course content, you can pass the 20-question, multiple-choice quiz to receive your personalized certificate of completion, worth 5CEs (continuing education credits for massage therapists).
Following the class, you will also have access to this Home Study course for any future review.
Course Topics
History & Theory of Thai Reflexology
Yoga Therapy Practices to Open Your Sen (Meridians) and plantar fascia
Follow along with us and Practice Thai Foot Reflexology with the Wooden Stick
Plus extra bonus features of face, scalp, neck, hand, and wrist massage, AND options for using the stick on the hands
*Do you have your own Thai stick? If you need one, simply select from one of the following two Amazon links:
https://amzn.to/2BID59a
https://amzn.to/31j431S
Benefits of Experiencing Thai Reflexology:
Save your hands, wrists, fingers, and thumbs with the Thai wooden Reflexology tool
Heal Plantar Fasciitis, Chronic Ankle Instability, and even Knee pain using potent Thai Therapy Points
Incorporate fun and refreshing stretches for the toes, feet, ankles, and legs to liven up your practice
Create a full body mind healing experience by activating the foot reflexes
Descend the energy into the soles to still the mind and calm the heart
Home Study Tuition Includes
Digital copy of Thai Reflexology instructional manual
Almost 5 hours of video instruction
5 State- and Nationally approved-CEs (NY and FL LMTS must notify us to manually input there completed CEs)
Certificate of Completion
Lifetime access to review this Home Study course