Thailand Adventure
Retreat
Eleven days in the beautiful foothills of the Himalayas,
with the healing art of traditional Thai massage.
NOV. 2– NOV. 12 2022 PINGVIMAN HOTEL CHIANG MAI THAILAND
Immerse yourself in the beautiful foothills of the Himalayas, dotted with sacred temples, smiling locals, delicious cuisine, jungle excursions with elephants, and the healing art of Traditional Thai Massage.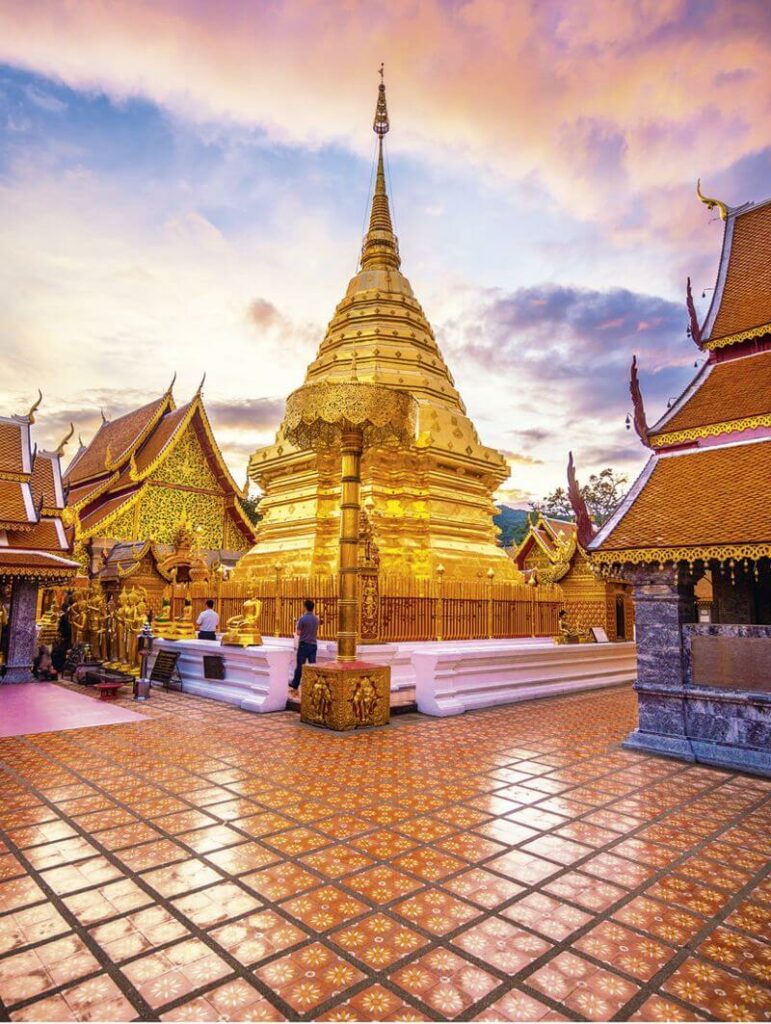 THAILAND ADVENTURE INCLUDES:
· All meals (except on free day), lodging, and local transportation
· Traditional Thai Massage Foot reflexology 2-day training
· Daily movement and meditation practices
· Visits to the famous Doi Sutep and other local temples
· Culinary expeditions sampling some of the best offerings of South-East Asian fare
· Experience the healing sanctuary for displaced elephants at Elephant Nature Park
· 1-day Vipassana Meditation Course and Monk chat
· Cultural orientation with local guides
· Thai Massage Treatments from local Thai massage therapists, as well as from Thai therapists from the Suppatra Blind Massage school
· Enrollment in Living Metta's Table Thai Yoga Massage and Thai Foot Reflexology
· 27 NCBTMB Approved CEs
· Monthly emails with tips and suggestions on how to create easiest possible experience for traveling in Thailand
· Multiple live and recorded replays of zoom meetings with Heath and Nicole prior to the adventure to help answer questions about flights, itinerary, and to orient participants to Thai culture and what to expect
THAILAND ADVENTURE INDIVIDUAL REGISTRATION IS $3,799
·To ensure the quality of our time together, this retreat is limited to a total of 20 participants.
· Participants do not have to have any previous massage experience.
· You may reserve your spot with a $1000 deposit and remaining balance may be made in 2 more payments in the amount of $1,399 are due on both August 1st and September 1st.
· Full Thailand Adventure cost assumes a shared, double room with another person. Add $1,000 charge for Private Room Accommodation.
· Regular Retreat Registration is $3,799 if you register after July 15th 2022.
· Price of this Thailand Adventure does not include airfare to and from Chiang Mai, Thailand
Nicole and Heath have been visiting Thailand since 2001, and have cultivated a treasure-trove of local contacts to help Westerners connect with a truly authentic Thai cultural and healing experience. Some of our friends that you'll be sharing time with are:
Teachers at the Old Medicine Hospital
This is the oldest traditional Thai Medical Learning Center in northern Thailand, here Heath and Nicole first studied Thai Massage. Taught by proteges following the great Master Sintorn Chaichakan's lineage, students receive a thorough grounding in the theory and application of traditional Thai Massage. We will practice and receive traditional Thai massage, stretching, and reflexology therapies to balance the physical and energetic body, heal pain, and feel good from the inside out.
Blind Thai Massage Practitioners
It is common in many Asian countries to train blind citizens to become massage therapists. All participants on this retreat will receive a Thai Massage session from a Blind Thai Massage therapist (you may schedule more sessions for added charge). This is a unique, once-in-a-life-time experience, harnessing empathy and loving compassion for both giver and receiver.
THAILAND ADVENTURE INDIVIDUAL REGISTRATION IS $3,799
Sawadee/Welcome Friends!!
Arrivals into Chiang Mai, Thailand (Heath and/or Nicole will organize to pick you up from the airport)
5 pm Orientation
7pm: First group meal
Morning Qigong in the Park
Cultural Immersion with local guides
Visit local Wat Chiang temple
Lunch
Receive Traditional Thai Massage at local, walkable Wat
7 pm Dinner at the Night Bazaar
Morning Qigong in the Park
1-day Vipassana Meditation Course and Monk chat (9am-4pm, lunch provided)
630 pm Pickup for Street Food Tour
Morning Qigong in the Park Thai Reflexology Day 1 (9am 4pm, lunch provided)
If you prefer not to attend this course, we can help point you to other activities, expeditions, or Thai Massage you might prefer.
Walking Saturday Wu Lai market
7 pm Dinner
Morning Qigong in the Park Thai Reflexology Day 2 (9am 4pm, lunch provided)
7 pm Dinner (the famous Sunday Walking Market will be open until midnight if you're up for late night shopping)
Morning QiGong in the Park
Full Free Day to explore with optional excursions: Thai Cooking Class, Thai Massage therapies, Zip Line Adventure, Jungle Trek
Lunch and dinner are on your own this day
Morning QiGong in the Park
Daylong tour of Doi Sutep temple and more explorations in the mountains
7 pm Riverboat Dinner
Morning QiGong in the Park
Morning Blind Massage
Afternoon and Evening Yi Peng Ceremony (Loi Krathong festival)
Elephant Nature Park (9am 4pm, lunch provided) 7 pm Dinner
Morning QiGong, closing ceremony
Free morning for last-minute shopping, bodywork, etc, lunch on your own
Afternoon and dinner
Thai Cooking class in rural village (Farm to Table: Cooking at Organic Farm, Buddha Raksa Nature Farm)
Group breakfast and Sawatdees (Goodbyes)
Enjoy an optional extended visit in Thailand and/ or in the surrounding areas. We are happy to share insight to help you customize your own private tour.
COVID VACCINATION, REFUND & CANCELLATION POLICY FOR
THAILAND ADVENTURE
Updated entry requirements into Thailand: Beginning July 1, 2022, travelers will need to show proof of either a certificate of vaccination OR a negative RT-PCR test within 72 hours of travel. Though this requirement may be changed for our November retreat, we recommend anyone planning to travel overseas consider if a covid vaccination is appropriate for them, especially for providing for easier arrival.
There is a no risk, 14-day period to cancel your registration and receive a full refund for any reason.
Participants who cancel their registration after
the 14-day grace period, but prior to August 1, 2022, will be returned 50% of their deposit plus 100% of any other payments.
Participants who cancel their registration after August 1, 2022 will receive no refund. You are only eligible to a 70% refund from canceled registrations after August 1, 2022 if we are able to fill your reservation.
We reserve the right to cancel this retreat no later than August 1, 2022. If we cancel, you will be refunded 100% of any of your payments for this event. We will not refund airfare.
"The Thai Immersion Retreat was an experience that provided so much more than I ever expected! I thought I would learn a little about Thai massage, maybe hear some info on Thai culture. Instead I learned, felt, ate, massaged, practiced, played, hung out with elephants, this list could go on for days!!! Heath & Nicole created the perfect itinerary and opportunity to create a small family so far from home. Not only are Heath & Nicole incredible people to be around in addition they are wonderful teachers!! If you have any interest in expanding your education/bodywork experience, this is the one. You'll love it!"
"Such an amazing trip!!! A wonderful group of people to travel with <3"
"Still can't believe it's already been a year and a half ago! Seems like yesterday meeting wonderful people and having a once in a lifetime experience with the best teachers ever Heath and Nicole! So blessed to have been apart of this amazing time"
Don't miss this opportunity!