This membership includes access to all Videos On Demand (VOD) with more than 30 hours of touch therapies and self care videos, the entire Home Study CE Library, 2 Monthly Experiential Webinars, and Seasonal At-Home Retreats. Plus, receive access to new videos uploaded each month! Additionally, massage therapists earn 32CEs every year.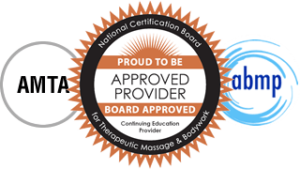 All of our massage CE courses are NCBTMB approved (Provider #330232) and can be used to fulfill NCBTMB, AMTA and ABMP as well as most state massage therapy continuing education requirements.
Video on Demand (VOD) Access Includes:
16 Self Care Instructional Videos
20 Healing Moves Yoga Classes
6 Massage Therapy Videos
*Bonus Features: New videos added every month!
AND Metta Community Members Also get:
2 Monthly Webinars (see calendar)
Home Study CE Library
Seasonal At-Home Retreats
Monthly Webinars are held 2x every month for 90 minutes each session. Join us live or get access to our 3-hour monthly recordings.
These experiential classes allow you to:
Grow your reservoir of health, vitality, and lifelong loving kindness in a like-minded community
Effectively let go of tension, stress, and pain from your body, mind, and heart
Understand how to bio-hack your anatomical and physiological processes to enhance your health and wellness
Access and activate touch therapies practices, like healing pressure points and meridian massaging, to feel really good
Seasonal At-Home Retreats offer conscious practices to reveal and resonant with your innate essence as we collectively recalibrate ourselves with the shifting energetic and climatic transitions during each solstice and equinox. These are offered 4 times a year: the evening before and the morning and evening of each Winter and Summer solstice and Spring and Autumn equinox. Join us live or get access to the 5 hours of recordings from each session.
These experiential classes allow you to:
>Enhanced Body Intelligence and Body Mapping
> Touch Techniques
> Mindful Movements
> Meditations
> Leadership Enhancement
> Reinforce Integrity Exercises
> Multiple Disciplinary Perspectives
> Wellness News and Discoveries
Risk-Free 100% Money Back Guarantee
We will cancel and refund your membership fee at any time within the first 30-days of activation if you are dissatisfied.