June 2019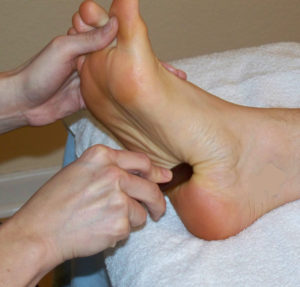 ($109 after June 9th)
Therapists are introduced to Thai meridians, therapy points, and stretches to address the hands, feet, face, and legs with a 90-minute protocol, as well as how to incorporate the wooden Thai Reflexology stick to save therapists' hands. Also, you earn 6 AZ state- and NCBTMB-approved CEs.
Find out more »
July 2019
Thai Yoga Massage Hybrid Online + Live — Upon completion of this online + live training course, you will learn more than 3 hours of facilitated stretching using diverse tools like elbows and feet. You will be able to perform a full body Table Thai Yoga Massage or be able to integrate these stretches into any massage session. Also, you earn 24 state- and NCBTMB-approved CEs. Table Thai Yoga Massage Benefits Relieve common aches, like Neck, Shoulder, Leg, Hip, &…
Find out more »
October 2019
Explore Unwinding Approaches by Growing Your Intuition.
Upon Completion of this Advanced CST course, you will receive more than 2 hours of hands-on techniques, including unwinding approaches, inner mouth work, and coupled holds. Also, you earn 16 state- and NCBTMB-approved CEs.
Find out more »
+ Export Events