Happily Ever Present: Embody Happiness in 2023 with 23 Days of Happy Hacks!
Program includes 4, 50-minute Live Sessions, Plus 23 days of Happy Hacks delivered daily to your inbox, and 4 CEs.
Live Meet-Ups with Happiness Experts, Heath & Nicole Reed occur on 4 consecutive Mondays beginning Jan 9th thru Jan 30th, from 4:30-5:20pm AZ/ MT
(Replays emailed for those unable to attend or for lifetime review)
$50 or Free for Metta Community Members
Happiness isn't a destination. Happiness is a journey and is only experienced in the present moment. Join Heath and Nicole as we connect the science of happy living with simple, everyday "Happy Hacks." Happy hacks allow you to benevolently hotwire your nervous system in order to short-circuit stress and live from your presence.
When we're feeling unhappy, the conventional wisdom is to try and think our way out of it: We tell ourselves, "If we can just figure out what the problem is and get a fix it for it, then we'll be happy". What if the converse was actually true!?
In fact, science tells us that: how we consciously use our body is the most efficient and actually a more practical gateway to increasing our feelings happiness. That's right! You can use your body to brighten and uplift your mind. You can use your body to soothe and calm your heart. Indeed, you can use your body to upgrade to a nervous system that can withstand greater and greater amounts of happiness, joy, and love for more sustained periods of time.
Experience how practicing just a couple minutes of conscious breathing, movement, or touch can positively shift your physiology, brain, emotions, and mindset. These presencing practices allow you to become more aware of the here and now, and give you the capacity to consciously self-regulate your nervous system and build momentum to living happily ever present!
As consummate life learners, Heath and Nicole have spanned the globe for more than 20 years studying, practicing, and sharing all kinds of healing practices that grow body wisdom (like yoga therapy, breath work, qigong, touch therapy, conscious communication, and meditation). They are grounded in loving kindness, passionate about the human body and empowered by everyday practices that fuel their happiness!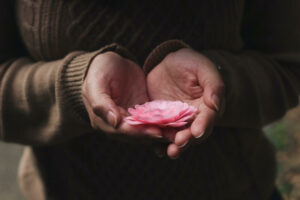 During this 23-day exploration, co-create a community of happiness and body wisdom with Heath and Nicole's favorite presencing practices that grow your happiness.
Register Today  or Become a Metta Community Member and Join Us Free
Science supporting these "Presencing Practices" found in the following resources:
Blue Zones of Happiness: Lessons From the World's Happiest People, Dan Buettner
The Extended Mind: The Power of Thinking Outside the Brain, by Annie Murphy Paul
Fierce Self-Compassion: How Women Can Harness Kindness to Speak Up, Claim Their Power, and Thrive by Dr. Kristin Neff
The Polyvagal Theory in Therapy: Engaging the Rhythm of Regulation by Deb A. Dana, forward by Stephen W. Porges